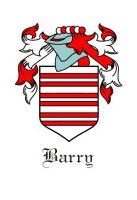 Generation No. 1
1. Thomas1 Berry was born Abt. 1728, and died October 1824 in Clark Co., Ky.. He married Catherine LNU 1751. She was born Unknown, and died Unknown.
Notes for Thomas Berry:
We haven't yet found who brought our Berry family to the British colonies in America, but it is probable that they were second sons of landed gentry, who came from England as headrights for other landed gentry from Sussex or Essex, before 1700, and settled in Virginia. Difficulties in distinquishing our family from other Berrys abounded as there was another Berry family who settled not far from them, and had the same given names. The peculiarities of tobacco farming made it more difficult still as tobacco cultivation depletes the soil rapidly, necessitating frequent moves to new, still fertile fields. The second Berry family followed the same migratory path through the south, through Virginia, the Carolinas, Kentucky and Missouri, buying and selling land every few years. Land Deeds are an important source of genealogical information and sorting through the earliest records of such transactions to find which of these two Berry families was our own was indeed a task. The challenge was complicated by the usual distruction of legal documents through floods, fires, wars, and Indian deprivations. It is probable that both Berry families came to Virginia from the same place in England about the same time, and were related, perhaps brothers or cousins, but such a relationship has not been established.
Another obstacle was seen in that women (wives and daughters) were rarely mentioned in legal documents of the 1600's and 1700's, especially among immigrants from England where women were legal chattle. In some places, even when a marriage license was required by law the husband-to-be got the license, but the wife-to-be-'s name was not mentioned. There are some exceptions. One is that a wife had the right to one third of her husband's estate at his discease, called dower rights, so the courts were obliged to record her approval each time the husband sold his land. In these cases her name (only the given name) is on record. Occasionally a wife's full name can be found in a Will or Deed from her father, or brother, as wife of a designated male. This is the best possible documentation for a female, but is the exception rather than the rule because women so frequently died before their husbands, making it most likely that one man was married to two or three wives in his lifetime.
The last difficulty in finding out about our Berry family is that the information about Alonzo Ragsdale Berry which is to be seen in the records in Utah, including the Census records and his death Certificate, and the family lore from his daughter Josephine was, perhaps by (his) design, not only incomplete, but wrong.
We have been helped in compiling this genealogy of our Berry family by many generous individuals, and by a two incidents made possible by the advent of computer networking. Here are some of those people.
Dorothy Koenig, of Berkeley, California, who fortunately for us, did the initial research on the Berrys of Virginia, and who, for many years edited a genealogy newsletter for Berrys in America.
Charles Rice Bourland, of Florida, who kept and then shared with us, his well-documented information.
Betty Babcock, of Lehi, Utah who while researching her own family history, recorded a great deal of documented information about the Berrys in Missouri, though, as it turned out, they were not her own family as she had hoped. Even so, she had the good grace to submit her records to the L.D.S. files where they were many years later found during my research.
Last, Carol Cable of Michigan, who sent this Email in May, of 2002:
"I saw your genealogy posted on the Dade County, MO mail list.
My grandmother corresponded with Mary and Sallie (Berry) after her family left Dade County and went to Kansas. She was Ematell "Emma" Fort, dau. of John G. and Mollie Fort.
Have old letters from Mary and I think Sallie, do you know if there are any descendants? I didn't see marriages for either. Would be glad to share with their families.
/s/ Carol Taylor Cable, a long way from Kansas."
These several letters and Minutes from a Bible study association were dated between 1878 and 1892. There was a picture of Sallie Berry (Montgomery), Alonzo Berry's sister. They shed a little light on the family, and were of considerable help in establishing a time line for the migration of the Berry family out of Missouri.
There is a lot more to know. We still have scant information about our great grandmother, Mary Adeline McMillan Berry, but we know know that she was called Addie, taught Sunday School, and died of Tuberculosis about 1881. More to come.
Here is Thomas Berry's Last Will and Testament, he being the first documented Berry of our family in America. It was written in Clark County Kentucky, 1812, after the untimely death of his son John who had moved west into Hopkins County Kentucky a few years prior.
Clark Co., Ky, Will Book 5 Page 452:
In the name of God Amen. I Thomas Berry of the County of Clarke and State of Kentucky being in perfect health of body and of sound mind and of memory, but calling to mind, that it is ordered for all men once to die, do make and publish this my last will and testament towit.
In primis, I give unto the heirs of my son John Berry deceased (in addition to a certain negro man named Jack, and one feather bed and furniture which I gave to my said son in his life time) one shilling sterling and no more.
Item. I give unto my son William Berry (in addition to what he has heretofore received from me, which was one negro named Harry and one feather bed and furniture) one shilling sterling and no more.
Item. I give unto my daughter Mary Hudson (in addition to one negro girl, named Letty, and one feather bed and furniture) one shilling sterling and no more.
Item. My will and desire is, that (in addition to what I have heretofore given to my son Thomas Berry, my daughter Sally Harris, wife of John Harris, and to my daughter Elizabeth Brasfield, wife of Wiley R. Brasfield) all my estate both real and personal that I may (line missing on Xerox copy of will) equally divided between the last above mentioned towit, Thomas Berry, Sally Harris, and Elizabeth Brasfield to them and their heirs forever. Lastly I do appoint my son Thomas Berry, Wiley Brasfield and John Harris executors of this my last will & testament. In Testimony wherof I have hereunto set my hand, and affixed my seal this eighteenth day of January one thousand eight hundred and twelve. (1812) (signed Thomas Berry and seal). Witnesses were John W. Hinde, Richard Chiles and Andw Wardlow. Teste James P. Bullock CCC (Clerk of Clark County)
Inventory and Appraisal of Thomas Berry's estate, Clark County, Kentucky Will Book 6, page 157, entered January Term, 1826,
one negro man James 62 years old $00.00
l woman Fanny 55 30.00
l man Moses 45 275.00
l ditto Reubin 30 400.00
l bed bedstead and furniture 4.00
2 split bottom chairs .50
l woden (sic) chest 1.00
One note on Sarah Harris for $140.00 given on demand dated September 1814, Endorsed by credit for $40.00 September 9th, 1816. Two notes on George G. Taylor, Jr. for $261.00 given on demand on 3rd March, 1815.
Given under our hand this 17th day of February 1826, Colby H. Taylor, Reubin T. Taylor, William Berkeley Commissioners. He was age 96 when he died.
There are 10 Deeds recording land transactions by Thomas Berry in Amelia County, Va., between 1762 and 1768. These are to be found in Amelia County Deed Books 7,8, and 9. One ( Deed Book 7, Page 552) records Thomas Berry as a resident of King William County (1772).
There are 31 Deeds recording land transactions by Thomas Berry and /or his sons, John and William, and one for which Sarrah Berry was witness, in Mechlenburg County, Va., between 1769 and 1785. These are to be found in Mechlenburg County Deed Books 2,3,4,5, and 6.
Neighbors in this vicinity were Benjamin Ragsdale and wife Susannah, William Ragsdale, John Ragsdale, Richard Ragsdale and wife, Sarah, Thomas Ragsdale, Drury Ragsdale, Peter Ragsdale, and Charles Burton.
Notes for Catherine LNU:
This information is taken, by permission from BERRY BULLETIN, Volume 11, Number 4, Pub. 1996, Page 82, an article by Editor Dorothy Koenig, of Berkeley, Ca.
"Who was Thomas Berry, Sr.'s wife? I'm not sure. Because the name of his wife was given as Catherine when he sold land in Amelia County to Thomas Tucker in 1768, it has been suggested that her name was Catherine Jones because this entry can be found in Stafford County, Virginia Register of Overwharton Parish, 1723-1758.
Thomas Barry married Catherine Jones on 5 August 1749.
However, in 1762, when he was living in King William County, Va, Thomas sold land to Michael Clardy of Amelia County, and there is no mention of a wife to sign away her dower rights. The only established birthdates for any of Thomas' six children are for his son, Thomas Berry, Jr.--8 June 1757-- and for his youngest daughter, Elizabeth--4 November 1771. In his will written in 1812, Thomas did not refer to a wife, and he did not list his children in order of their birth; rather he listed the three he wished to exclude from inheritance...and then the three he wished to favor with bequests, Thomas, Sarah, and Elizabeth. It follows that there is only one child--Elizabeth, whom we can state with reasonable certainty was the daughter of Thomas' wife Catherine. I am guessing that Thomas had two wives, and that the name of his first wife was Martha, because of Thomas' children John Berry named his eldest daughter Martha and called 'Patsy' (the usual nickname for 'Martha" in the 18th Century); Molly Berry Hudson named her eldest daughter Martha, and Sarah Berry Harris also named her first-born daughter Martha. Elizabeth Berry Brasfield did not name a daughter Martha, but we know Elizabeth to be the daughter of Catherine (MNU) Berry. Thomas Berry. Jr. did not name a daughter Martha, and he had ample opportunity because he had ten daughters before he had two sons. I have no information about William's family."
Children of Thomas Berry and Catherine LNU are:
+ 2 i. John2 Berry, born Abt. 1753 in King and Queen County, Va.; died 1810 in Hopkins Co., Ky..
3 ii. William Berry, born Abt. 1755; died Unknown.
+ 4 iii. Mary Berry, born Abt. 1765 in Amelia Co., VA.; died 1813 in Campbell County, Va..
+ 5 iv. Thomas Berry, Jr., born June 08, 1757 in Virginia; died 1835 in Clark County, Kentucky.
+ 6 v. Sarah Berry, born Abt. 1762 in King William Co., VA.; died Abt. 1832 in Clark Co., KY.
+ 7 vi. Elizabeth Berry, born November 04, 1771 in Mecklenburg Co., Virginia; died October 21, 1837 in Clark Co., KY..