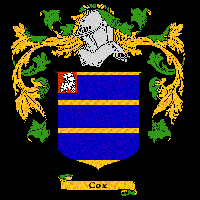 Descendants of William Coxe
Generation No. 1
1. William1 Coxe was born 1598 in Broxburn, Hertfordshire, England, and died Bef. December 14, 1656 in Henrico Co., Va.. He married Elizabeth Hutchins. She died Unknown.
Notes for William Coxe:
From: Kentucky Family Records, Volume 2, Mrs. Edgar L. Cox (Editor), page 61 ("Early Virginia Ancestors of our Cox Family and their Colonial Cousins," compiled by Mrs. David O. Reichlein, submitted by Mrs. Opal Cox Avant):
Matthew Edlow who had land that was next to land of William Cox in Henrico Co., brought 24 servants into the Colony and received 50 acres of land for himself and for each of the 24 servants. (Headright for each) This made it an easy way for people to get free passage to the Colony. Thus one can find in the records that the wealthiest men in the Colony did bring in people to get 50 acres of land for each one. Indentured servants were those who had to work for their masters seven years, room and board, but no pay.
When his time was up, his master had to provide him with a new suit of clothing and tools. The government gave him 50 acres of land. Some of the finest men came over that way, as many of the prominent families of England sent their younger sons, for their law in England of primogeniture favored the first son.
England's claim to possession of territory in the New World was based upon John Cabot's success in 1497, being the first to reach the mainland of America. It was not until almost one hundred years later that their first attempt at an English settlement was started. Queen Elizabeth, in 1583, gave Sir Humphrey Gilbert a proprietary patent to go forth and settle the New World. The project was a hopeless defeat and ended in Gilbert's death. Then Queen Elizabeth passed the patent on to Sir Walter Raleigh, half-brother of Sir Gilbert. Again, efforts to establish a colony were a failure, but Roanoke Island achieved fame as the birthplace of Virginia Dare in 1587 - the first child of English parents in the New World.
After King James of Scotland mounted the English throne, he gave approval for new attempts at colonization in the New World, and granted charters to the newly organized London Company. The London Company offered each subscriber who would pay twelve pounds and twelve shillings the following: "Lord of 200 acres of land which would be given to him and his heirs forever."
From: Adventurers of Purse and Person, page 61 (Musters)
Thomas Bouldinge, his Muster - Elizabeth Cittie:
Thomas Bouldinge, aged 40 in the Swan 1610
William Bouldinge, borne in Virginia
William Coxe, aged 26 in the Godspeede 1610
Richard Dale, aged 20 in the Jacob 1624
Provision: Corne, 10 barreles; Fish, 600 ct; House, 1; Pallizado, 1; Armes: peeses, 3; Armor, 1; Coate of male, 1; Swords, 3; Powder, 6 lb; Lead, 200 lb.
From: Cavaliers and Pioneers, Volume 1, 1623-1666, Nell Marion Nugent, Virginia State Library, Richmond, Virginia, 1992 (Patent Book 1, Part 1).
Page 12 - William Cox, of Eliz. Citty, Planter, 100 acres within said precincts, abutting east on land of Dictoris Christmas, Planter, extending towards ground now graunted to Christopher Calthropp, Gent., south on the maine rivr, &c. Lease as above. 20 Sept, 1628 page 89.
Page 52 - William Cox, 150 acres, Henrico Co., 29 Nov. 1636, page 503. Aboute 2 1/2 miles above Harroe Attocks, west by north upon the maine river, westerly upon the great swamp, easterly into the woods and southerly towards Harrow Attocks. Due for transportation of 3 person: Thomas Braxston, Richard Bird, Richard Hewes. Same patent listed Patent Book, Part 2, Page 74, but persons transported were not named.
Pages 59-60 - Mathew Edloe (Edlowe), son & heir to Matthew Edloe, late of Virginia, decs., 1,200 acres upon the north side of James River over against the Upper Chippokes Creek, southwest upon the maine river & northeast into the woods towards Danceing point, 12 July 1637, page 435. Due in right of 24 servants transported at the costs of his father: Math Edlow, Hugh Tyder, Wm. Deame, Edwd Tompson, Wm. Cox, Eliz. Jax (Jux - This may be intended for "ux" - wife), Griff. Roberts, Fr. Roberts, John Licheston, Peter Homes, Evans Kemp, Jon Buston, Tho. Crosby, Rand. Heyward, Hen. Croft, Tho. Morris, Tho. Rogers, Step. Pettis, Chri. Jomes, Wm. Marsten, Jon Bethone, Tho Martin, Jon. Seaton, Geo. Pricklove.
Page 61 - Alice Edloe, 100 acres, Henrico Co., 14 July 1637, page 441. Lying 2 1/2 miles above Harroe Attocks towards the falls on the same side of the River in a Swamp betwixt land belonging to William Coxe &350 acres graunted to said Alice, bounded west by south upon the maine river, east by north into the maine woods through said Swamp, beginning 12 feet on that side of a Creek towards land of said Coxe, running up the river & abutting her own land. Transportation of 2 persons: John Williams, William Attaway.
Page 75 - (Book 1, Part 2): Same as page 52, above, but 3 persons transported not named.
Page 61 - (Book 1, part 2) - Nathaniell Floyd, 850 acres, Isle of Wight Co., 20 Nov. 1637, page 498. 600 acres being a neck about 4 miles up the maine creek running up the baye of Warwicksquike, the said neck lying between 2 creeks, &c. 250 acres up towards the head of the maine creek over small creeks or brookes. Transportation of 17 persons: Christ. Denn, Robert Leaderd, Wm. Moyses, Ambrose Proctor, Tho. Weare, Robert Barton, Rober Joyce, Mathew Tomlin, Jon Cox, Rich Redock, David Hopkins, Flug. Floyd, Wm. Cox, Katherin Folder, Rich. Carter, Jon. Gillett, Christ. Thomas.
Page 84 - Robert Cradock (Craddock), 300 acres, Henrico Co., 29 May, 1638, page 537. Northerly on a little creek towards Lilley Valley upon land of William Cox & Isaac Hutchins & south upon land of John Davis. Transportation of 6 persons (not named).
Page 133 - Thomas Ransha, 300 acres, Warwick Co., Aug. 25, 1642, page 813. Being a neck of land called Harwoods Neck, butting upon the Deepe Creek, near land of William Coxe, to Stokes Creek, dividing this from land of Christopher Boyce. 150 acres due by purchase of patent from John Garrett & the other for transportation of 3 persons: Richard Puse, Georg Sutton, Michaell Slowly.
Page 148 - Cronelius de Hull, Oct. 31, 1642, page 8442. 501 acres known as Lilley Valley, beginning next to Mrs. Edlows Swamp, near his own land & southeast upon John Davis, southwest to the river, ending neare a place called the Seaven - , 250 acres of this land was granted to William Cox in 1637. Transportation of 10 persons: Thomas Blackston, Richard Bird, Richard Hewes, James Dupen, Mary Howtree, Jon. Dodd, Robert Hayes, Samll. Waterhowse, Waltr. Jones, Wm. Thomas.
Page 147 - Thomas Hughes, 400 acres, Charles River Co., Sept. 28, 1643, page 907. Upon Tymber Neck creek on the north side of said river adjoining Mr. Richard Richards. Transportation of 8 persons: Georg Burford, Senr., Geo Burford, Junr., William Cox, Mary Cox, John Shell, Tho. Tapp, Wm. Thorpe.
Page 335 - Peeter Lee, 126 acres, Henrico Co., known by the name of Worricke, 14 Dec. 1656, page 44 (67). Beginning at a small run & a place called London Bridge which divides it from land belonging to the Orphans of William Cox, southeast on the main river & northeast on Isack Hutchings. Transportation of 3 persons (not named).
From Adventurers of Purse and Person, pages 211-216:
William Coxe came to Virginia at the age of 12 in the Godspeede, which arrived 10 June, 1610 with the party of Thomas West, Third Lord De La Warr. The fact that Lord De La Warr's brother, Robert West, married Elizabeth Coxe, daughter of Sir Henry Coxe of Broxburn, Hertfordshire, suggests that William Coxe may have been of that family. When the muster was taken, February. 1624/25, he was listed with Thomas Bouldinge at ElizabethCity. He was granted a lease for ten years, 20 Sept. 1628, for 100 acres "within the precincts of Elizabeth City," bounded on the south by the maine (James) river, on th east by Dictoris Christmas, planter, and Christopher Calthropp, Gent.
Children of William Coxe and Elizabeth Hutchins are:
+ 2 i. John2 Cox, born Abt. 1640 in Henrico Co., Va.; died Bef. February 01, 1696/97 in Henrico co., Va..
3 ii. Mary Cox, born Unknown; died Unknown. She married John Burton; died Unknown.
4 iii. Elizabeth Cox, born 1628; died Unknown. She married Robert Porter; died Unknown.
5 iv. Thomas Cox, born 1620 in Henrico Co., Va.; died Unknown in New Kent Co., Va.. He married Elizabeth LNU; died Unknown.